Exchanges between systems – a cross-border network
Veolia Powerline Kaczyce (formerly NWR Energetyka PL) owns the Pogwizdów 110/6 kV transformer station that supplies electricity on the 110 kV voltage level to a unit isolated from the Czech electricity grid. Two hard coal mines owned by OKD, the largest coal company in the Czech Republic, use this unit.
Dalkia Powerline changes its name to Veolia Powerline Kaczyce

Talks between the Veolia Group and EDF Group on the termination of their partnership cooperation were closed in July 2014, whereupon Veolia became the sole shareholder in Dalkia's operations outside France. In the wake of Dalkia in the Czech Republic Group moving under the Veolia flagship, its companies will be renamed one by one. Effective as of 30 March 2015, Dalkia Powerline has been renamed Veolia Powerline Kaczyce.



NWR Energy and its subsidiaries already belong to the Dalkia Group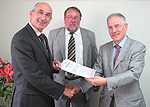 NWR Energy became the latest acquisition of the Dalkia Group in the Czech Republic on 21 June 2010, under its new name of Dalkia Industry CZ. The purchase agreement between Dalkia Česká republika and the parent company, New World Resources (NWR), was executed as early as in January 2010; however, the transfer of the 100-percent stake in NWR Energy was only executed after the approval of the deal issued by the relevant anti-trust authorities. As part of the transaction, Dalkia also acquired ownership over two of its subsidiaries: CZECH-KARBON and NWR Energetyka PL, whose names changes to Dalkia Powerline. The Dalkia Group will thus acquire approximately 400 new employees. "The acquisition of NWR Energy represents an important and logical step in the implementation of our long-term strategy. The new company provides us with a global mining and industrial reference", said Mr Laurent Barrieux, the Country Manager of the Dalkia Group in the Czech Republic.